What are hair fibers?
Do you want to know how to make thin hair look thicker? Investing in products that are designed to cover hair loss and
thinning is a great way to improve the appearance of your hair.

Toppik hair-building fibers are designed to give the appearance of volume. They are made of natural, coloured keratin
protein – the protein that makes up human hair. The premium keratin used in Toppik comes from a natural source and
is nearly identical to that found in human hair, so it blends undetectably.
How do hair building fibers work?
Hair-building fibers work by using the strong natural static charge found in keratin protein to bind to existing hair. This
electrostatic charge is powerful enough to securely attach to the hair, meaning that the fibers are fastened in place
until the charge is removed, which is usually when they are washed during shampooing – something we recommend in
order to preserve the condition of your scalp.

When applied in the desired areas, these fibers can successfully disguise hair loss and leave you with thicker-looking,
fuller hair.
The Technology
Behind Toppik Hair Fibres
The Technology
Behind Toppik Hair Fibres
Made of natural, coloured Keratin protein that has a strong natural static charge, Toppik Fibers bind electrostatically to your existing hair to give the appearance of volume. The premium Keratin used in Toppik comes from a natural source and is nearly identical to that found in human hair and so blends undetectably.
Other fiber brands are derived from lower-grade sources of Keratin like those found in plant based materials and rayon, meaning that they do not have a comparable static charge. Consequently, there is nothing attracting them to the hair, so they tend to clump, shift, or fall onto the scalp and look unnatural.
Because of our innovative natural technology, Toppik Hair Fibers stay in place whatever the weather — be it wind, rain, or shine. If you head to the gym, for a run, or the weather is hot, the fibers will even stay put during perspiration.
With No Hair Fibers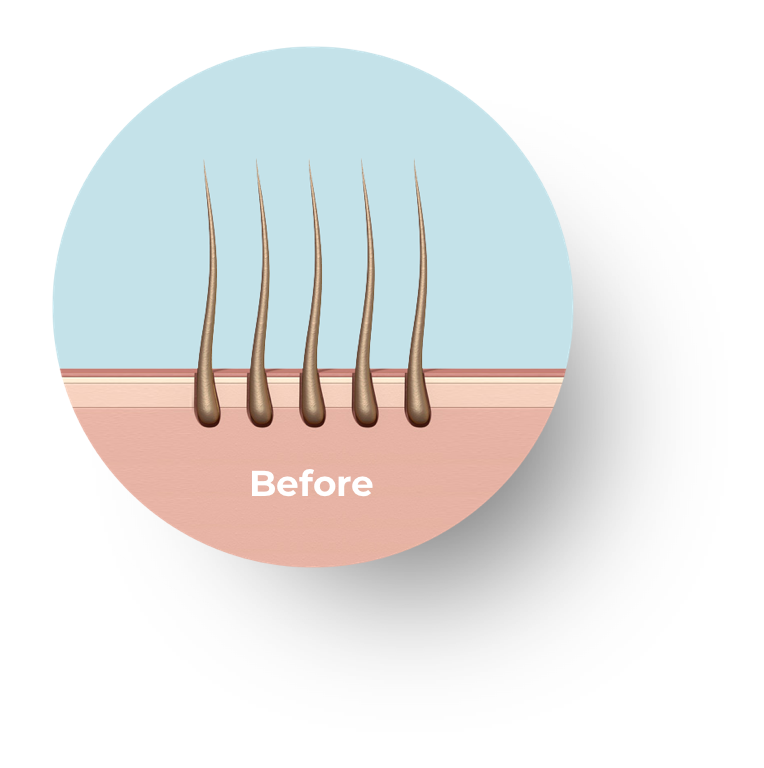 With Hair Fibers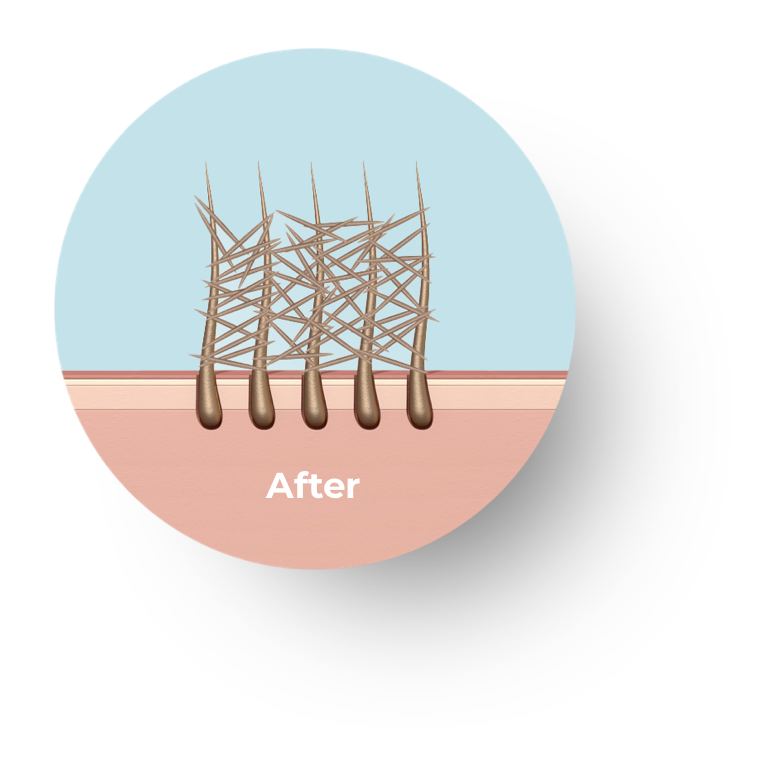 USING TOPPIK IN 3 EASY STEPS
If you're looking for a cosmetic solution to thin or balding hair, Toppik Hair Fibers can help you disguise that. Whatever your hair colour, whether you have patchy spots or an uneven hairline, you can create a routine to work for you.
Want to know how to use hair fibers? Simply follow these three steps and you'll soon see the difference hair fibers can make before and after application.*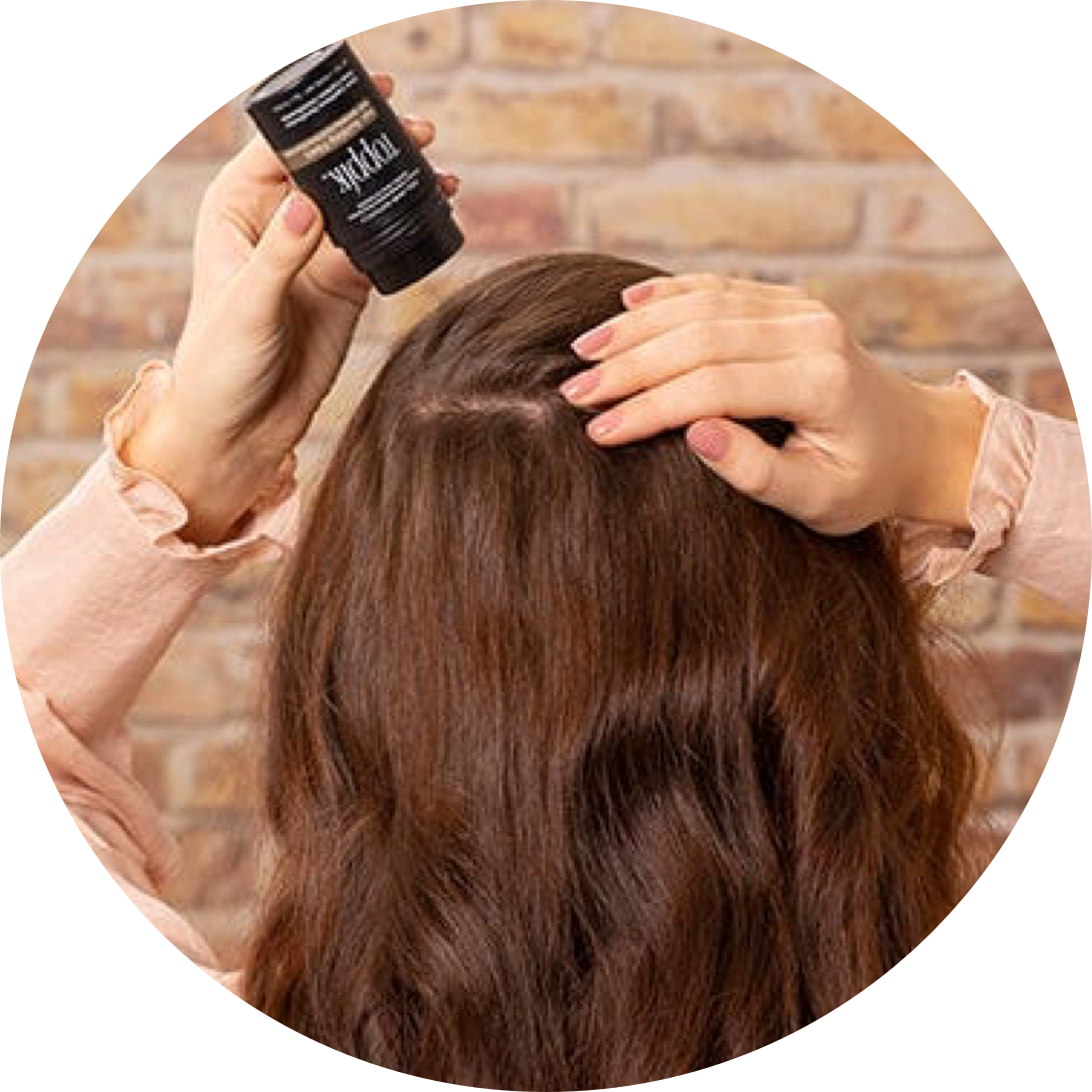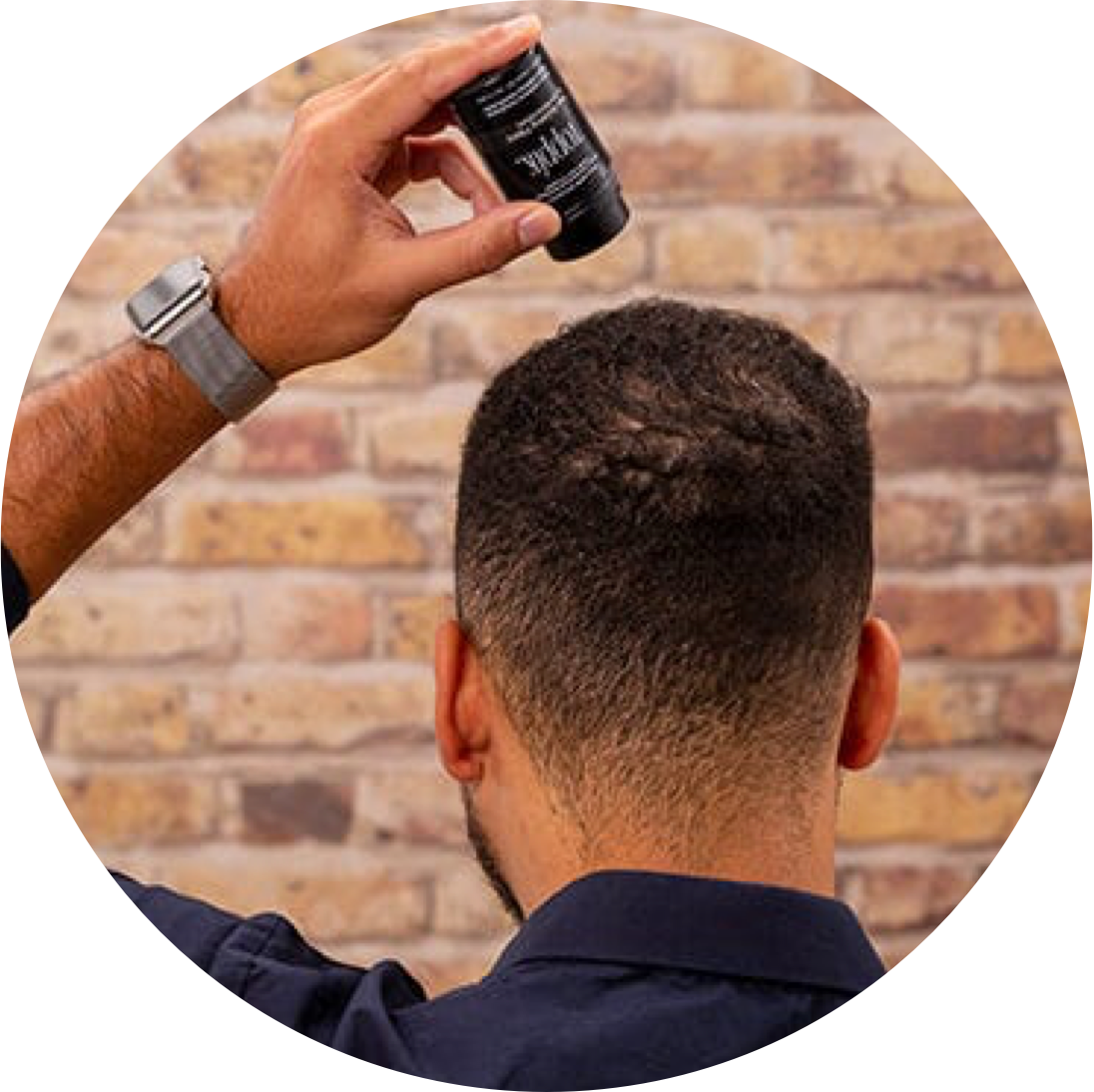 Begin by shaking the Toppik Hair Fibers liberally into any thinning hairs. For best results, apply to clean, freshly dried hair before using any styling products. Pat the hair gently after application to settle the fibers in place.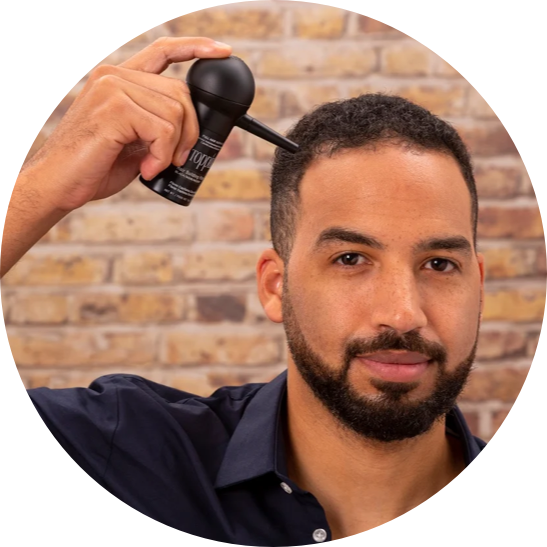 For more targeted application at the hairline or temples, remove the sieve head of the fibers' pot and twist on the Applicator Spray head. Squeeze gently to disperse the fibers.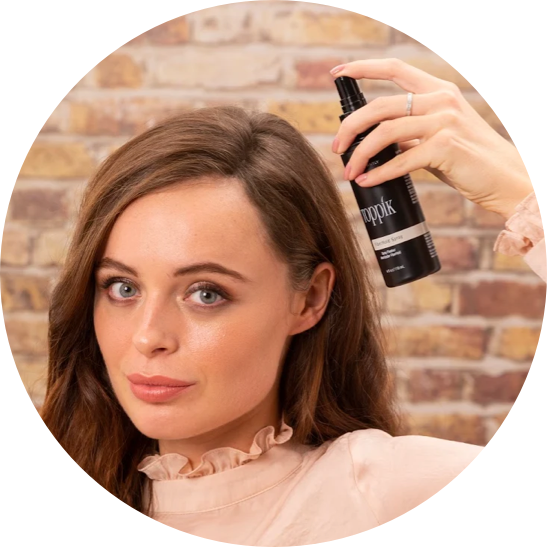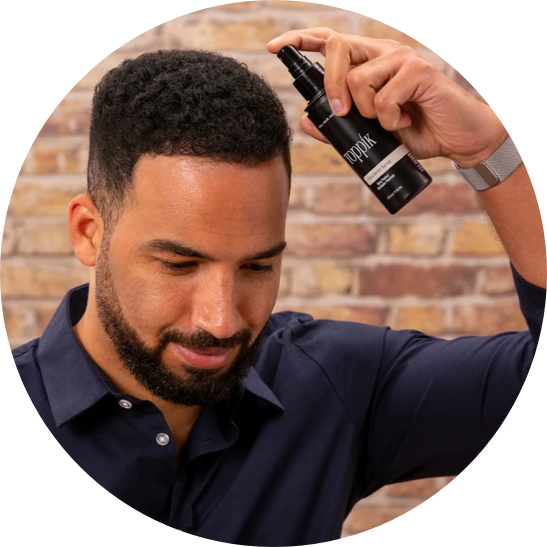 Spray once into the air to clear the nozzle. Hold six inches from hair and spray over the area, applying the fibers in three to four short, sharp bursts.
*A note before you begin
We recommend that you carefully read the ingredients list before you begin the application process. Doing this will
ensure you spot anything to which you might be allergic. Also, while hair-building fibres are safe to use, it's worth doing
a patch test first. This is an additional step that will ensure your skin isn't irritated by the product.
HAIR FIBERS BEFORE & AFTER
For a flawless finish, you can rely on Toppik Hair Fibers every time. Not only will they help you fake fuller hair but you can also use them to:
Prolong time between colour appointments by disguising your roots.
Blend any exposed hair extensions for a faultless long-hair look.
Fill in eyebrows and match them to your hair colour with careful, targeted application.
Still wondering "do hair fibers work?" Take a look at the before and after pictures to see the results for yourself!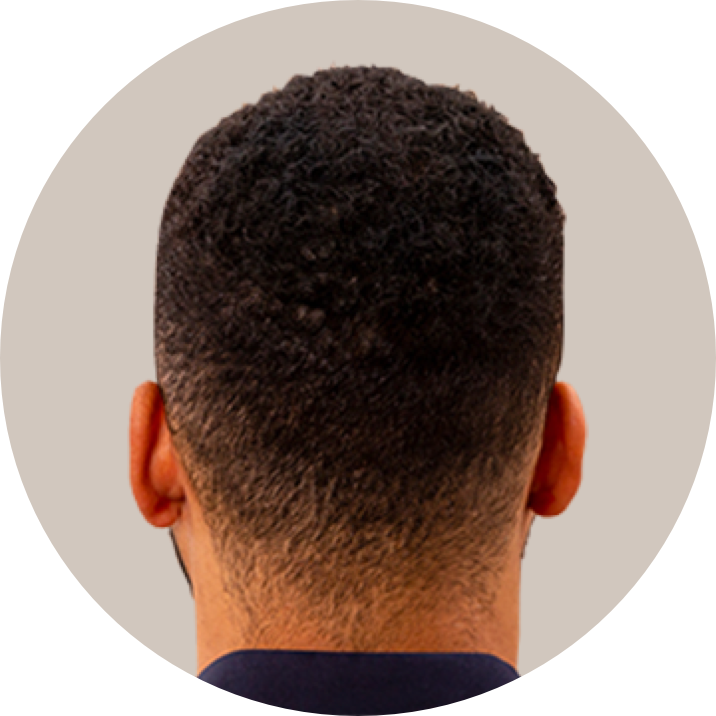 How To Achieve Transformational Results With Toppik Hair Fibers
Do you want to find out more about how these hair fibers can disguise hair loss and give you thicker-looking hair? Take a look at this helpful video, which further illustrates how to apply Toppik and the transformation results you can
achieve.
As shown, Toppik Hair Fibers can be applied using the built-in sifter cap or with the help of the Toppik Applicator Spray. The sifter cap is recommended for use when applying the fibers to wide areas of thinning.
The Toppik Applicator Spray tool can be screwed onto the head of the Toppik Fibers bottle (12g and 27.5g) to provide more targeted application at hairlines, part-lines and temples.
Finish with FiberHold Spray to lock fibers in place for the whole day.
TOPPIK HAIR FIBERS: FREQUENTLY ASKED QUESTIONS
Are you considering using hair-building fibers from Toppik but have a few lingering questions before you do? If so, take a look at some of the most frequently asked questions below to see if your query is there. If it's not, feel free to get in touch and a member of our team will be happy to help you.
Do hair fibers come off when you sweat?
Because of our innovative natural technology, Toppik Hair Fibers stay in place whatever the weather – be it wind, rain
or shine. If you head to the gym, for a run, or out into a bright, hot day, the fibers will even stay put when you perspire.
What are hair fibers made of?
The hair fibers used in our product are made of keratin. This protein is from natural sources and is almost identical to
the keratin we produce. As this is a natural product, it's safe to use.
How long do hair fibers last?
These hair-building fibers last until you wash your hair. They are resistant to wind, rain and even sweat. However, for added confidence, you might want to try Toppik Fiberhold Spray, a fine mist spray designed to strengthen the bond between the hair fibers and your existing hair.
They will wash out when you apply shampoo. We recommend you wash your hair daily in order to avoid product buildup and prevent your hair from appearing greasy.
Can you wear a hat with hair fibers?
Yes, you can wear a hat when you've added hair fibers. The static charge between the fibers and your own hair is strong
enough to withstand a hat and any sweat caused by wearing one.
Do hair fibers clog drains?
While natural hairs tend to clog drains, our hair fibers are a fine powder that doesn't swell up when wet, easily washing away.